FAMAGUSTA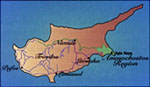 Pictures from Famagusta
AMMOCHOSTOS REGION IN A SNAPSHOT
Places that are NOT occupied by the Turkish army and thus accessible by tourists.
PARALIMNI - AGIA NAPA
Paralimni
Since the Turkish military occupation of Famagusta in 1974, this small town has become the temporary administrative center of the district. The twin-aisled vaulted church, dedicated to the Virgin Mary (Panagia), is decorated with unusual 18th-century porcelain plates. The church, parts of which belong to the 13th century, houses a small ecclesiastical museum.
Agia Napa
Originally a fishing village, it is now a major tourist resort. The charming medieval monastery dedicated to 'Our Lady of the Forests' stands in the middle of the village. Its 16th-century church is partly underground and cut into the rock. The sycamore tree in front of the south gate is believed to be over 600 years old. Visit the Maritime Museum.
Deryneia
The village has three interesting churches, dating from the 15th and 17th centuries. From this village you can look at the 'ghost city' of Ammochostos, now under occupation by the Turkish forces.
Sotira
Here you'll find the partly ruined church of Agios Mamas, which was built in the 12th century and rebuilt in the 16th. Most of the surviving frescoes date from then. About 15 Km to the west is the church of Agios Georgios, an early Christian basilica.
Liopetri
Here is a 16th-century church dedicated to the Virgin Mary and the 15th-century church of Agios Andronikos, with an octagonal dome and murals. Liopetri still carries on the traditional craft of basket making.
Frenaros
The village of Frenaros has its own small Byzantine churches. Two of them, the Agios Andronikos and the Archangelos Michail, date back to the 12th century. The church of Agia Marina has some interesting frescoes painted by different artists.
Potamos Liopetriou
A picturesque fishing refuge. Nearby are the remains of a Venetian watch-tower. The French poet Arthur Rimbaud worked in this area in the 1880s.



Tourist Information
Leoforos Kryou Nerou, 12
Agia Napa; Tel: (03)721796
---
RETURN
TO THE TOURISM PAGE
RETURN
TO THE CYPRUS ACCESS PANEL
---