THE MISSING PERSONS
Introduction
In the summer of 1974, Turkish troops invaded and occupied more than a third of the teritory of the Republic of Cyprus. Over the years those who lost their loved ones, their homes and their livelihoods have begun the painful process of rebund- ing their shattered lives. But for us, the fathers, the mothers, the brothers, the sisters and the children of the "missing" the passage of time has deepened, rather than healed the wounds inflicted by the Turkish invasion.


There are 1.619 missing persons, our relatives. This number includes not only soldiers, but also civilians and among them women and children, who disappeared consequent to the Turkish invasion of Cyprus in 1974. These missing Greek Cypriots were arrested by the Turkish army and/or by Turkish Cypriots under the control and command of Turkey's armed forces. Subsequent to their arrest, many were transported to Turkey and kept as prisoners in Turkish jails. Since 1974, despite our appeals to the Turkish Government and to other International Organizations, and contrary to International Law and Human Rights Conventions, Turkey refuses to provide us with any information about the fate of our loved ones. Instead, the Turkish Government is insisting that it knows nothing about the fate of our relatives, and furthermore, that no Greek Cypriot missing, persons are held.


Turkey's claims, however, are not supported by any facts. During discussions in the presence of UN and ICRC Representatives, on the few occasions when the Turkish side was compelled to accept unannounced visits to places where according to information Greek Cypriots were to be found, several Greek Cypriot missing persons were found imprisoned in the Turkish occupied areas. For example, on 20 November 1974 the following persons were found after one such visit:

(a) George Kaiser of Kyrenia, (b) Michael Frangopoulos of Bellapais, (c) Michael Ponticou of Morphou, (d) Cleanthis Charalambous of Lakatamia, (e) Andreas Katsouris of Styllos, Famagusta.


Similarly on 7 August 1975, Charalambos Moschovias of Achna and Stelios Gregorakis of Ayia Trias were found in the same way. Finally, on 25 October 1976, Lambros Plitsis from Larissa, Greece, was also found.


There is hard and indisputable evidence establishing, beyond any doubt, that the disappeared persons were alive and well at the time of their arrest by the Turkish army. This evidence is founded on:


- eye witness accounts and sworn testimonies stating that a large number of the missing, were arrested by Turkish military personnel after the cessation of hostilities (Appendix I)


- sighting in captivity in mainland Turkish prisons and other detention centers in the occupied part of Cyprus (Appendix II)


- photographic evidence from the Turkish and international press showing clearly identifiable missing persons in the custody of Turkish troops both in Cyprus and in mainland Turkish jails (Appendix III)


- Messages from missing persons broadcast, after their ar- rest, by Turkish radio (Appendix IV)


- Red cross lists including the names of missing persons compiled during visits in Turkish detention centers (Appendix V).


In 1975, the Human Rights Organization, Amnesty International, presented the Turkish Government with a list of 40 missing persons about whom it has compiled evidence pointing to their presence in mainland Turkish prisons. No response to Amnesty's demands for an account was ever received from the Turkish Government. Turkey is constantly rejecting the efforts of humanitarian bodies, and blocks attempts by the international community to investigate the fate of our disappeared relatives. Although a Committee on Missing Persons was set up under the auspices of the United Nations in 1981, the Turkish Government is not represented and does not par- ticipate in its proceedings. It is not, therefore, surprising that the Committee, after so may years of investigations, has failed to determine the fate of a single disappeared person and to inform the family concerned accordingly.


This have been noted by the Secretary General of the United Nations, who in an effort to make the Committee effective, suggested to both sides to submit all cases in order to group them and continue investigations in a more systematic manner. He also called for urgent consultations to reach consensus on the criteria for the decisions to be taken after the investigations. These suggestions were included in his November 1993 report to the Security Council, S/26777.


Our Committee appreciates and views positively the initiative of the Secretary General and hopes that progress will be achieved soon, and the needed convincing information will be presented, to allow the full determination of the fate of all missing persons. To this end the cooperation of all concerned is needed, particularly from the Turkish side, which must, at last, decide to reveal the information in its possession on what happened to our loved ones after their disappearance.


The Turkish Government, in its refusal to recognize its obligation to account for the fate of Greek Cypriots held in its custody, is guilty of one of the most heinous crimes against humanity - the crime of enforced disappearance; a crime which is not subject to time limitation,,. As the Verde Report, which was submitted on September 1984 to the Parliamentary Assembly of the Council of Europe, states:



Enforced disappearance is one of the most serious violations of the human rights safeguarded by international instruments: it infringes virtually on all the victims' personal rights and many of the rights of their families. The violations... cannot be justified by special circumstances, whether armed conflict, state of emergency or internal unrest or tension.


This ongoing crime is a stain on Turkey's international reputation. More importantly, it is a crime which perpetuates the sufferings of the missing,, and their families, a crime which constitutes the most flagrant violation of the basic and fundamental human rights of both the missing persons and us, their families.


Our one and only demand is a profoundly human one. It is a simple demand for the full restoration and respect of the basic and fundamental human rights of the missing persons and ourselves.
IS IT TOO MUCH TO ASK?
Missing Persons
Categories and age groups of missing persons
| Missing persons | Men | Women | Total |
| --- | --- | --- | --- |
| Reservists/Soldiers | 992 | - | 992 |
| Civilians | 511 | 116 | 627 |
| Total | 1503 | 116 | 1619 |
| Age | Over 60 | 40-60 | 16-39 | Under 16 | Total |
| --- | --- | --- | --- | --- | --- |
| Men | 257 | 226 | 995 | 25 | 1503 |
| Women | 58 | 15 | 41 | 2 | 116 |
| Total | 315 | 241 | 1036 | 27 | 1619 |
A P P E N D I C E S
EVIDENCE ABOUT MISSING PERSONS
A P P E N D I X I
EYE WITNESS ACCOUNTS AND SWORN TESTIMONIES DOCUMENTING THE ARREST OF PERSONS, STILL MISSING, BY TURKISH FORCES AFTER THE CESSATION OF HOSTILITIES .
Summary of testimony given by Froso Demetriou from Voni village
She states that on 14.8.1974, the day the second phase of the Turkish invasion began, while she was at home with her husband and children, 37 soldiers of the Cypriot National Guard took refuge in her house. She provided them with civilian clothes and they burnt their army uniforms and hid their weapons. That night they stayed over at her house and at two other adjacent houses which belonged to her relatives. During the night, 35 out of 37 soldiers entered their names in a catalogue and the remaining two mentiond their names to her. This list was prepared for her to hand over to the International Red Cross. Also white cloth was hanged over the doors of the houses they were staying to indicate their intention of giving themselves up.


In the morning of 15.8.1974 two of the soldiers left the house to see if there was an escape route and they would return. After a while though, that is at about 08:00 - 09:00, and while the two soldiers were still out, armed men appeared outside her house and started shooting. She recognized them as the Turkish Cypriots Assasis Fahri from Beykoy, and the shepherds Halil ans Sallahis, the son of the Muktar, both of them from Epiho. The 35 soldiers gave themselves up. All those who were arrested were led on foot in the direction of the Turkish village of Epiho. Ever since then their fate has been unknown.


Summary of testimony given by Lambis Elia from Hartsia village
On 13.9.1974 the Turks arrested my two sons, Michael, aged 17, and Elia aged 19, and took them to their camp near our village. On the same day I met the Turkish Cypriot, Nazim Ahmet, aged 60, who is a friend of mine and I asked him to take me to the Turkish Army Officer. He did take me and the following day, on 14.9.1974, the Turkish Officer allowed me to see my sons for ten minutes. The next day, 15.9.1974, the Officer allowed me to see them again and this time I was with my wife. We saw them for some time in the Turkish camp where they were being held.


On 16.9.1974 at around 14:00, a party of the International Red Cross came to our village. I told them about the arrest of my sons and I led them to the area of the Turkish camp. Unfortunately, however, the Turkish Army Officer denied that he was holding any prisoners and did not allow the Red Cross to carry out an investigation.


Since then, nothing has become known about the fate of my two sons.


Summary of testimony given by Costas Andreou from Assia, father of the missing Andreas Kassapis
He states that on 20.8.1974, at around 13:30 while he was in his home at Assia with his son and his son-in-law, Leondios Leondiou, now both missing, his wife and two daughters, the Turkish Cypriot Gemali Batti and his son Asli from Aphania entered his home and arrested at gun- point his son and his son-in-law. They forced them to board a tractor and transferred them to an unknown destination. He further mentions that his son is a US citizen and student.


His name is included in the list of students (No. 61) which the Turkish side gave to the Government on 8.11.1974 for the purpose of releasing him.


A P P E N D I X II
SIGHTING OF MISSING PERSONS IN MAINLAND TURKISH PRISONS
Summary of testimony given by Christakis loannou from Pano Dhikomo



On 15.8.1974 he was taken prisoner by the Turks at Palekythro. He was transferred together with other prisoners to Paviides garage and on 31.8.1974 to Adana prisons, Turkey. He was in cell No. 9. In the same cell was also Andreas Varnava from Potamia, whom he met there and whose name he heard being called out by the Turks. Andreas Varnava who is now missing, stayed in the witnesses cell for 3-4 days and he was thereafter transferred to another place. He has not been seen since then.


Summary of testimony given by Andreas Nicodemos from Trimithi, Kyrenia District



He was a reservist. On 29.9.1974 while he was in his village Trimithi he was taken prisoner by Turkish soldiers together with other co-villagers. On 30.7.1974 he was transferred to Turkey to Adana prisons together with many other prisoners. On 20 or 21.8.1974 while the Turks were taking them out in the yard he heard someone call out his name. The person who called him, as he immediately found out, was his co-villager Kyriakos Frixou, who is now missing. He shook hands with him and they spoke about where and how they were arrested. At that moment they were ordered by the Turks to enter their cells. Since then no one has seen the missing.


Summary of testimony given by Costas Themistocleous from Omorphita



He mentions that he was taken prisoner at Palekythro by Turkish troops during the 2nd round of the Turkish invasion. After staying at different detention centers he, together with other prisoners, ended up at Adana prisons in Turkey. On 17.10.1974 while the prisoners were preparing to be transported to Cyprus for their release, he saw Savvas Apostolides, now missing, from Neo Horio Kythrea, who was a good friend of his. He did not speak to him, for it was forbidden. Instead he greeted him raising his hands and the missing reciprocated.


A P P E N D I X III
IDENTIFICATION OF MISSING PERSONS FROM PHOTOGRAPHIC EVIDENCE IN THE TURKISH AND INTERNATIONAL PRESS.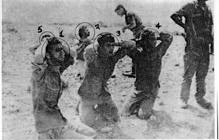 This photo was taken by a Turkish war reporter.


Identified prisoners still missing:
1. Korellis Antonakis tou Michael, age 30, from Kythrea

2. Nicolaou Paniccos tou Chrysostomou, age 26, from Achna

3. Skordis Christoforos tou Georghiou, age 25, from Dhali

4. Papayiannis loannis tou Charalambous, age 24, from Aglangia

5. Hadjikyriakos Philippos tou Stephani, age 19, from Famagusta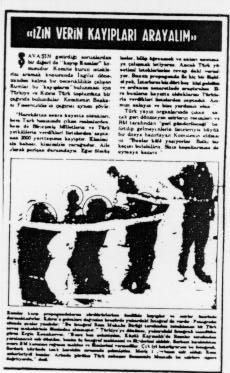 Translation of the Article in MILLIYET
In this issue of the Istanbul daily, MILLIYET of 23 June, 1976 Mr Mehmet Ali Birand, the Turkish journalist who visited Cyprus, writes under the heading ALLOW US TO SEARCH FOR THE MISSING PERSONS:


One of the problems created after the war is the missing Greek Cypriots question. In order to find these missing persons the Greeks have formed a Committee. Formed after the pattern of similar committees during the British administration of Cyprus, the Committee is working very efficiently.


The President of the Committee, Mr Fysentzides, has appealed to Turkey and to the Turkish community in Cyprus to help them locate these missing persons.


Mr Fysentzides has said in his appeal: Relying on the pictures published in the Turkish press and on documents and lists submitted by the UN and Turkish authorities, we have established that 2,000 of our compatriots are missing after the Turkish military operation. They are our fathers and sons. As families we are in distress. We want to know whether or not they are dead. If they are, we will try to remedy our grief. However, the Turkish leadership is refusing to answer our call. This has nothing to do with propaganda. If the Turkish authorities agree, we will send four or five people and under the Turkish army's supervision, we will search for them, because we have established from the list submitted to us that they are alive. Try to understand our suffering and help us.


The Pancyprian Committee of Parents and Relatives of Undeclared Prisoners of War and Missing Persons bases its arguments on pictures published in the Turkish press and on UN name lists of prisoners to be returned. The Committee believes that the missing persons are still alive and perhaps it could locate and find some of them. We are ready to obey all your orders says the Committee's President.


Under this interview a picture is published in which four Greek National Guardsmen are shown surrendering to the Turkish forces. Mr Birand writes:


The Greeks are continuing their progapanda, especially on missing persons and POWs. People visiting Cyprus are handed brochures, in which the above picture is included. The following is printed under the picture: The picture was taken by a Turkish war correspondent captured by Greek National Guardsmen>.


When I returned to Turkey, Mr Ergun Konuksever saw the picture by chance and quickly recognized it and said: It was I who took this picture when I was wounded in Kuchuk Kaimakli (Omorphita) and taken prisoner by Greeks. They seized my three cameras and films.ln spite of the UN's decision, they did not return them to me when I was freed. I remember very well taking this picture in Serdarli (Chattos village) during the tank operation. These are the Greek POW's captured by the tank crew MERIC I and the soldier in the foreground is Corporal Mustafa from SAMSUN offering cigarettes to the POW's.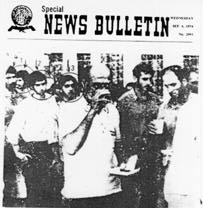 SPECIAL - N E W S - B U L L E T I N
Special NEWS BULLETIN (a Turkish Cypriot Publication), Wed- nesday 4 September 1974
Greek Cypriot POW's during lunch hour. They were visited yesterday by the Representatives of the Turkish Red Crescent who toured all Prisoner of War Camps in the Turkish controlled region of the island to ascertain the needs of the prisoners.


The following persons, identified in the photo, are still missing:

1. Thomas Eleftherios tou Christou, age 20, from Lapithos


2. Kyriakos (Tzirkakas) Demetrios tou Panteli, age 20, from Ay. Varvara


3. Philippides Andreas tou Georghiou, age 30, from Nicosia


4. Stavrinou loannis tou Stavrou, age 20, from Kapouti



STILLS FROM A BBC DOCUMENTARY FILM TAKEN AT ADANA PRISONS - TURKEY, BROADCAST IN LONDON ON 4.9.1974


A 1. GEORGIOU Andreas George - Latsia (age 26 at time of arrest)

2. STEPHANIDES Charalambos Demetris - Nicosia (age 19)


B 1. PETRIDES Nicos Petros - Episkopio (age 32)

2. SYZINOS Demetrios Phillipos - Yipsou (age 50)


A P P E N D I X &nbsp &nbsp IV
NAMES OF PERSONS ARRESTED BY THE TURKISH INVADiNG FORCES WHO CONVEYED MESSAGES TO THEIR FAMILIES OVER THE ILLEGAL TURKISH CYPRIOT RADIO BAYRAK WHILE IN CAPTIVITY AND WHOSE PRESENT WHEREABOUTS ARE STILL UNKNOWN.
NAMES
ANDREOU SOTIRIS
CHRYSILIOU ANASTASIOS
CONSTANTINOU COSTAS
DRAKOS GEORGHIOS
GEORGALLAS GEORGHIOS
HADJIKYRIAKOU GEORGHIOS
KALAPODAS CHRISTAKIS
KORELLIS ANTONAKIS
KOUSPOU SOTERIS
MICHAELf GEORGHIOS
MOUSCOU CHRISTAKIS
PAPACHRISTOFOROU ALEXANDROS
PETRI CHRISTOS
PYRKOS DEMETRIOS
YAGOUMETTIS IACOVOS
ZAMBAS MICHALAKIS





TESTIMONIES DOCUMENTING MESSAGES BROADCASTED ON BAYRAK FROM PERSONS STILL MISSING
Summary of testimony given by Kiki Andreou Symeonides from Kythrea



During the course of the second phase of the Turkish invasion, that is on 14.8.74, Kiki Andreou together with her family went to Kalopanayiotis. On 15 or 16 August 1974 and at about 20:00 while she was listening to the Greek broadcast of the illegal Turkish Cypriot radiostation BAYRAK, the announcer said that at that moment messages by captured national guards-men would be broadcast. Among those who spoke she heard her co-villager Antonakis Korellis, whom she knew very well say: I am Antonakis Korellis from Kythrea, we are doing fine.



Both her family and herself were certain that the person who spoke was indeed her co-villager, Antonakis Korellis.


Summary of testimony given by Yiannoula Paviou Argyrou from Kato Lakatamia



On 8 or 9 August 1974 and at about 20:00, after the news bulletin of the illegal Turkish Cypriot radio station BAYRAK, Yiannoulla heard messages by Greek Cypriot prisoners. Among those who delivered a message was someone named Demetrios Pyrkas from Mammari. He stated his name, that he was from Mammari and that he was fine. She herself did not know this missing person.


Summary of testimony given by Costas Georgi from Assia village



During the course of the Turkish invasion he was working for MACHI and THARROS newspapers and among his duties was the monitoring of the illegal Turkish Cypriot radio station BAYRAK broadcasts. On 4 or 5 August 1974 and at around 20:15 after the news bulletin and BAYRAK commentary, he heard five Greek Cypriots speaking and saying that they were doing fine with the Turkish Cypriots. One of the five was the missing Christakis Kalapodas from Kakopetria. He did not know Kalapodas.



A P P E N D I X V
I.C.R.C DOCUMENTS CONFIRMING THE DETENTION BY THE TURKS OF PERSONS WHO ARE STILL MISSING
Note


PETRASIDES GEORGHIOU Andreas, 22 years old, from Famagusta, is still missing, although he was visited and listed as Prisoner of War at the TurkisK Prison of Seray, by Deiegates of the International Committee of the Red Cross on 23.8.74, in accordance with the above attestation.



Additional List of Prisoners Seen by the ICRC on 28/8/1974 at Pavlides Garage


HADJINICOLAOU TAKIS
HADJIDEMETRIOU PAVLAKIS
KALLIS SAVVAS
ELIA ODYSSEAS
ANDREOU TAKIS
NEOPHITOU STELIOS
KEMEKIS PANIKOS
PARASCHOU MIXALIS
KOUNOUPOS PANAYIOTIS
HADJIDEMETRIOU GEORGIOS
TSAPARELLIS TAKIS
KAPHOURI SAVVAS
LIASI SAVVAS
ONOUPHRIOU NIKOS
NICOLAOU ANDREAS
PROKOPIOU GLIKERIOS
KAPHORI VASSOS
FLOURENTZOU NIKOS
PALLARI KYRIAKOS LYSANDRI
KOSMA PEPIS




---
POSITIONS TAKEN BY INTERNATIONAL ORGANIZATIONS ON THE PROBLEM OF D I S A P P E A R A N C E S
United Nations General Assembly Resolution 33/173


33/173 Disapeared Persons


The General Assembly


Recalling the provisions of the Universal Declaration of Human Rights, in particular articles 3,5,9, 10 and 11 concerning, inter alia, the right to life, liberty and security of person, freedom from torture, freedom from arbitrary arrest and detention and the right to a fair and public trial, and the provisions of articles 6, 7, 9 and 10 of the International Covenant on Civil and Political Rights, which define and establish safeguards for certain of these rights,


Deeply concerned by reports from various parts of the world relating to enforced or involuntary disappearances of persons as a result of excesses on the part of law enforcement or security authorities or similar organizations, often while such persons are subject to detention or imprisonment, as well as of unlawful actions or widespread violence


Concerned also at reports of difficulties in obtaining reliable information from competent authorities as to the circumstances of such persons, including reports of the persistent refusal of such authorities or organizations to acknowledge that they hold such persons in their custody or otherwise to account for them


Mindful of the danger to the life, liberty and physical security of such persons arising from the persistent failure of these authorities or organizations to acknowledge that such persons are held in custody or otherwise to account for them,


Deeply moved by the anguish and sorrow which such circumstances cause to the relatives of disappeared persons, especially to spouses, children and parents.


1. Calls upon Governments:


a) In the event of reports of enforced or involuntary disappearances, to devote appropriate resources to searching for such persons and to undertake speedy and impartial investigations;


b) To ensure that law enforcement and security authorities or organizations are fully accountable,especially in law, in the discharge of their duties, such as accountability to include legal responsibility for unjustifiable excesses which might lead to enforced or involuntary disappearances and to other violations of human rights;


c) To ensure that the human rights of all persons, including those subjected to any form of detention and imprisonment, are fully respected;

d) To co-operate with other Governments,relevant United Nations organs, specialized agencies, inter-governmental organizations and humanitarian bodies in a common effort to search for, locate or account for such persons in the event of reports of enforced or involuntary disappearances;


2. Requests the Commission on Human Rights to consider the question of disappeared persons with a view to making appropriate recommendations;


3. Urges the Secretary-GeneraI to continue to use; his good offices in cases of enforced or involuntary disappearances of persons, drawing as appropriate, upon the relevant experience of the International Committee of the Red Cross and of other humanitarian organizations;


4. Requests the Secretary-General to draw the concerns expressed in the present resolution to the attention of all Governments, regional and interregional o rganizations and specialized agencies s for the purpose of conveying on; an urgent basis th e need for disinterested humanitarian action to respond to the situation of persons who have disappeared.


90th plenary meeting 20th December;1978

---




Forced or involuntary disappearances



The XXIVth International Conference of the Red Cross,



Alarmed at the phenomenon of forced or involuntary; disappearances, perpetrated, connived at or consented to by governments,
deeply moved by the great suffering such disappearances cause not only to the missing persons themselves and their families but also to society,
considering that such disappearances imply violations of fundamental human rights such as the right to life, freedom personal safety, the right not to be submitted to torture or cruel, inhuman or degrading treatment, the right not to be arbitrarily arrested or detained and the right to a just and public trial,
pointing out that families have a right to be informed of the; whereabouts, health and welfare of their members, at right which is laid down in various resolutions of the United Nations General Assembly,
commending the efforts of the ICRC, the Working Group established by the UN Commission on Human Rights to investigate the phenomenon of forced or involuntary disappearances and various impartial humanitarian organizations for the benefit of missing persons and their families,
1) condemns any action resulting in forced or involuntary disappearances, conducted or perpetrated by governments or with their connivance or consent,
2. recommends that the ICRC take any appropriate action which might reveal the fate of missing persons or bring their families relief and urges that the ICRC Central Tracing Agency and any other impartial humanitarian organization be granted the facilities necessary to take effective action in this matter,
3) urges governments to endeavor to prevent forcedlfor involuntary disappearances and to undertake and complete thorough inquiries into every case of disappearance occurring in their territory,
4) urges governments to co-operate with humanitarian organizations, and with the relevant bodies of the United Nations and of intergovernmental organizations, in particular those which investigate forced or involuntary disappearances, with a view to putting an end to that phenomenon.



---
VII MISSING PERSONS


88. The general question of missing persons or enforced disappearances was on the agenda of the Parliamentary Assembly of the Council of Europe in September 1984. In the conclusions of his report (Doc. 5273) Mr. Verde wrote:



Enforced disappearance is one of the most serious violations of the human nights safe guarded by international instruments: it infringes virtually all the victims' personal rights and many of the rights of their families. The violations are also contrary to the 1949 Geneva conventions and cannot be justified by special circumstances, whether armed conflict, state of emergency or internal unrest or tension. Under international law (eg Article 4 of the International Covenant on Civil and Political Rights) there can be no derogation from the obligation to respect a hard core of rights, comprising the right to life, protection against torture and the universal right to recognition as a person before the law, which are infringed in the event of enforced disappearance. The breach is so serious that it should elicit the most severe international sanctions



89. The Assembly took much the same view as Mr Verde and, after discussing his report, adopted Resolution 828 (1984) on enforced disappearances. There it branded these disappearances as a flagrant violation of a whole series of human rights, and called on the governments of United Nations members states to support the preparation and adoption by the United Nations of a declaration declaring that enforced disappearances is a crime against humanity and therefore not subject to limitation.



Disappearances constitute a clear violation of international law. When a person has been taken into custody and the authorities nonetheless deny knowledge of this, internationally guaranteed human rights are contravened such as: the right to security of the person; the right not to be subjected to arbitrary arrest and detention and the right to an effective remedy for acts violating fundamental rights, as guaranteed by Articles 3, 9 and 8 of the Universal Declaration of Human Rights and Articles 9 and 2 of the Internallonal Covenant on Civil and Political Rights (ICCPR)



A disappearance also contravenes Rule 92 of the UN Standard Minimum Rules for the Treatment of Prisoners, which states that an untried prisoner shall be allowed to Inform Immediately his family of his detention and shall be given all reasonable facilities for communicating with his family and friends... The UN Commission on Human Rights, in Resolution 1986/55, expressed its emotion at the anguish and sorrow of the families concerned, who should know the fate of their relatives. The suffering caused by a disappearance to the relatives, as well as to the victim, in itself contravenes the right not to be tortured or subjected to cruel, inhuman and degrading treatment or punishment.



Moreover, a person who has disappeared may have been tortured or killed in custody in violation of the rights guaranteed respectively by Articles 5 and 3 of the Universal Declaration of Human Rights and Articles 7 and 6 of the ICCPR. The right to life and the right not to be tortured are absolute rights enshrined in these articles from which no state may derogate even in situations of publicly declared emergency as defined in Article 4 of the ICCPR




---
APPLICATIONS No. 6780/74 AND 6950/75
CYPRUS
AGAINST
TURKEY
REPORT OF THE COMMISSION
(Adopted on 10 July 1976)
What follows is the conclusion of the European Commission on Human Rights, concerning the missing persons in Cyprus.


II. Missing persons

351. The Commission considers that there is a presumption of Turkish responsibility for the fate of persons; shown to have been in Turkish custody. However, on the basis of the material before it, the Commission has been unable to ascertain whether, and under what circumstances, Greek Cypriot prisoners declared to be missing have been deprived of their life(6).
---

RETURN
TO THE CYPRUS PROBLEM HOMEPAGE
RETURN
TO THE CYPRUS PANEL HOMEPAGE