Nicosia: A divided capital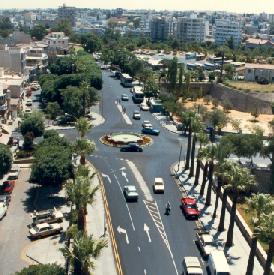 Nicosia has been the capital of Cyprus since the 10th century, a prosperous capital surrounded by beautiful Venitian walls, important monuments and churches, a city where history abounds in all aspects of everyday life.
Today Nicosia is a modern capital with all the facilities and amenities of a modern European town. Nicosia then and Nicosia now make the story of our city, the story of our world and our way of life. But now Nicosia is a divided capital, a capital that has suffered a great loss, a city cut right through its heart by a wall, a "green line", a city whose folk was forced to separate...
Nicosia, ever since the barbarous Turkish invasion of 1974 and the occupation of more than 37% of our island, is still trying to recover, to get back on its feet and become once more a happy city, where people live and let live...
Take your time to visit Nicosia
In the old city, life is a pleasure: wonder through narrow streets, see the backyards and the flowers in the spring, smell the jasmine flowers in those long summer evenings, and enjoy the warm morning sun in a local coffee shop in winter. Take a walk in our Municipal Gardens, a cool spot for our hot summer days...
Take your time to tour Nicosia
Remember Nicosia is the capital: the administrative, the business and the cultural center of Cyprus. If you are interested in the island's history and archaeology, do visit our unique archaeological museum, the Byzantine museum, the museum of folk art and the Strugle museum. See our numerous churches with fine icons, some decorated with beautiful frescoes, see the walls, and the historical center of our city that dates back to the sixteenth century. This will certainly remind you of important buildings that are familiar to you. Our old city is there to be discovered, and it is worth it...
Take your time to shop in Nicosia
Stroll down Ledra street, the main shopping street of the city within the walls, and see for yourself where the Orient meets the Occident, buy our famous laces and copper work, our original pottery or any other item you wish.
Make it to Laiki Yitonia, opposite the Main Post Office in Eleftheria Square, and see our local craftsmen at work, people living their trade, and making most of their everyday lives.
Enjoy a nice meal outdoors or indoors in Laiki Yitonia, a most pleasant past-time. Visit modern Nicosia for your elegant shopping, see Makarios III Ave., we guarantee that you will find whatever you need.
Do not forget our markets. Try and see our open-air markets every Wednesday, Friday and Saturday. It is not just the products, the colors and the smell that you will remember, its our people and their friendliness.
Take your time to live in Nicosia
Nicosia offers its luxury hotels to tourists and business people. It offers elegant restaurants of both European and local cuisine, cafes and night clubs unforgetable nights of buzuki and meze...
If on the other hand you would like to see exhibitions of art and galleries, find your own way in our cultural life. Read all about what is happening in the monthly "Nicosia This Month", the original tourist guide of the Municipality of Nicosia.
Take your time to travel outside Nicosia and see the country side
Half to one hour's drive will take you to our mountains (Troodos), to Byzantine churches of world fame and unique interest (Asinou, Ayios Nikolaos Steyis), to sites of archaeological value (Tamasos, Politiko), to picturesque monasteries (Makheras, Ayios Iraklidios) and to beautiful villages (Kakopetria, Fikardou).
You can drive there on your own, or hire a taxi or join an organised tour. All you have to do is look out for the CTO Information Office, and they will tell you about it.
Return to main.
---
Last modified: May 1, 1996.
Copyright © Nicosia Municipality