ACHNA SAINT MARINA, FAMAGUSTA DISTRICT
OCCUPIED VILLAGE IN CYPRUS BY THE TURKISH ARMY
TURKISH STATE TERRORISM AGAINST CYPRUS SINCE 1974
This page is intended to provide information about Achna, an occupied village of Famagusta district in CYPRUS since 1974 by barbarian Turkish troops.
The page is dedicated to all people who were killed, or are still missing due to the Turkish invasion, and it is a promise to them that we will return!
We promise that we will keep their memory and the memory of Achna Saint Marian alive, and that our thoughts and concerns are towards freeing our ancestors land.
Ayia (Saint) Marina, celebrates on July 17.

Achna village, has been captured by the Turkish army after Turkey attacked CYPRUS August 15, 1974. All Greek Cypriots inhabitants were forced out by Turkish military forces and are now refugees in their own country.
GREEK LAWFUL INHABITANTS NEVER FORGET, and wait for the holy day of RETURN.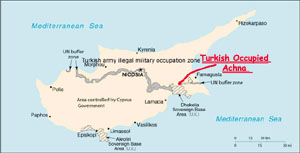 Map of Cyprus and pin-point of Achna
"No one can rest, no one's conscious can be clean, until the hour comes when all refugees return to the ancient Greek land of Famagusta. Famagusta is the land where we belong, is the land of our ancient history, it is where our identity exists".
Unless there is a just solution to the Cyprus problem that will guarantee our return to Achna, our village, we will always struggle for return. With the help of God, and Saint Marina, our village's protector and founder, one day we will return back to a FREE Akhna, and a FREE CYPRUS.
The Turkish army has forced us out from our homes with the use of brutal military power.
The Turkish army has forced us out and away from our land and made us refugees in our own country.
Turkish Cypriots and Turks are now living in our houses.
People from Achna were never a threat to nobody. We used to live in Achna with Turkish Cypriots in peace until 1974. The Turkish army invaded Cyprus and forced us out and denies access to our beloved village since then.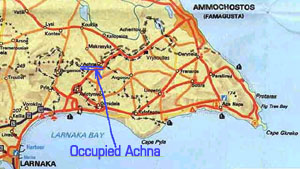 Click on the map for detail location of Achna
We mourn, but then our mourning became anger. We never forget our land, our history and our identity. We never forget, and we will always have in our hearts, and in our thoughts the terrible injustice done to us by the Turkish army. We want Turkish opressors to know that we will never accept a solution that will not guarantee our return to Achna Saint Marina.
This Home Page is maintained By Andrea Athanasiou.
11 ÌáÀïõ 2003 17:43:50