The Ancient, Greek town of Kyrenia, CYPRUS
The town of Kifeas and Praksandros from Laconia Greece, founders of Kyrenia:
Occupied illegally by Turkish troops since 1974
MAPS OF OCCUPIED KYRENIA
[Main page][Maps of Kyrenia][Poem of a Kyrenian]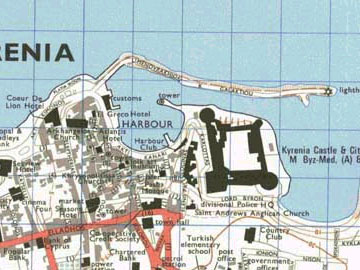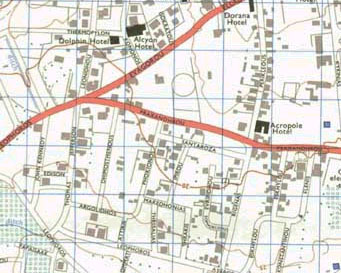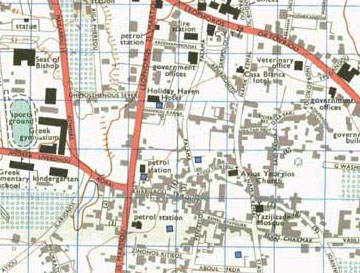 Map of Occupied town of Kyrenia (partial). You can clearly see the main roads of Kyrenia (Leoforos 25 Martiou - leading to Nicosia-, Ellados, Evagorou, Liverdou, and 28 Octovriou). You can also see the very distinctive Kyrenia Harbor, and the Ancient Castle (where the ancient Greek cargo ship of Kyrenia is kept, discovered by Greek-Cypriot diver Andreas Cariolou Aka "Arris" in 1965 and then again in 1967). Moreover you can see the Kyrenia Greek Gymnasium along with its stadium, the Greek Elementary school and kindergarten, the Seat of the Greek Orthodox Bishop of Kyrenia, the Greek Orthodox Church of Archangel Michael, the Kyrenia town hall, Kyrenia District Courts, and other administrative buildings. The Turkish Cypriot neighborhood of Kyrenia before the barbaric 1974 Turkish military attack and invasion against Cyprus was on the south eastern side of Kyrenia only. We want the Turkish invaders and oppressors to know that Kyrenia is always in our minds, in our hearts, and our daily discussions. We will NEVER forget our town, our ancient history, and culture there that stretches 3,000 years back in antiquity. We will always struggle for the safe return and settlement of all 200,000 Greek Cypriot refugees back to their ancestors lands including the town of Kyrenia. Click on each part of the map to see the enlargement.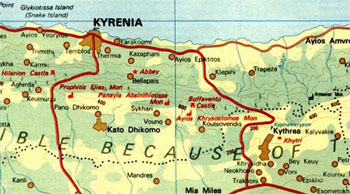 Map of Kyrenia district [partial] showing central Kyrenia district and the Turkish military occupied town of Kyrenia. Click on image to see the enlargement.
---
For problems, or questions regarding this web site contact Thanos A. Neophytou
For technical issues please contact Christos A. Neophytou.
Last updated: Friday, January 31, 2003 00:25:20 -0000 Greenwich Mean Time