Cyprus Ports Authority†††
---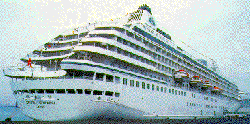 A Cruise Liner Hub
Cyprus is a natural port of call for ships cruising the Mediterranean, especially the Eastern. It is a gateway to a wealth of archeological treasures and various other unique tourist attractions. Though a part of Europe, Cyprus provides an example of a fine blend of various cultures, vividly witnessed by the islandís Hellenic Temples, Roman villas, Byzantine Monasteries, Venician fortificaitons and picturesque mosques. Found in abundance all over the island and given the countryís small size and modern road network, such places of immence interest can be sufficiently accessed in the course of a cruise shipís short call easily and comfortably.
Cyprus is a high value added call for the cruise operator, for it caters to the individual varied needs of the excursionists and the crew. In addition to the exploration of the past, the island offers its visitiors the whole range of options available in any modern tourist destination plus the facilities of an economically advanced country and a seat of internaitonal business, yet the birthplace of beauty as personified by Aphrodite.
Both of the islandís cruise passenger terminals, those of Limassol and Larnaca, offer all facilities required by the traveller, including duty free shopping, bank facilities, international telecommunication services and tourist information.
Cruise vessels enjoy first berthing priority. Dredged depth of quays available is 10 m. at least.
A new large and most modern terminal building became operational at Larnaca port in 1995, while the extention of the Limassol portís passenger facility has been the subject of a feasibility study recently completed.
In recent years Cyprus has become one of the most important cruise centres in the Eastern Mediterranean. It serves inter alia as the home base for a number of modern cruise ships. Enriching the islandís tourist product, they carry out excursions in the region for locals and tourists on a regular basis for at least nine months a year. The island is also included in the itineraries of most of the international cruise liners sailing the region.
Current emphasis is being placed on the development of Cypriot ports as turnaround cruise ports. The proposed development of Larnaca port into a major cruise port is towards this direction. Five kilometres away from Larnaca International Airport this seaport is well equiped for this role.
Favourable geographical location, a most safe environment for cruise ships and passengers and the high standard of tourist, business and port services available all contribute in making Cyprus a most attractive option both as a port of call as well as a base for ships cruising in our part of the world.
---