Cyprus Ports Authority   
---
One Port a Whole Island
Seaborn traffic is served in Cyprus by a modern and highly integrated national port system composed of:
the new multipurpose ports of Limassol and Larnaca
the new industrial port of Vassiliko and
the three specialized oil terminals at Larnaca, Dhekelia and Moni
All port facilities of the island are under the jurisdiction of the Cyprus Ports Authority and their activities and development are centrally planned, coordinated and supervised for efficiency and effectiveness. Situated within an area of less than 40 nautical miles, being part of the same enterprise, Cypriot ports complement each other in terms of facilities and traffic, constituting one larger port in effect. In combination they serve all types of cargo and they jointly catering to the country's local and transit traffic requirements as if they were a single port.
The Cyprus Ports Authority is a public autonomus organization responsible for the management and operation of the ports of the country. Its jurisdiction extends over all port areas of Cyprus, covering ownership and running of the major port installations of the island.

Limassol and Larnaca ports, which are the country's major gateways to international shipping, are owned, managed, operated, marketed and developed by the Cyprus Ports Authority. Activities and operations at the remaining port facilities of the island i.e. the industrial port of Vassiliko and the oil terminals at Larnaca, Dhekelia and Moni are also under the control of the Cyprus Ports Authority, though their installations are privately owned.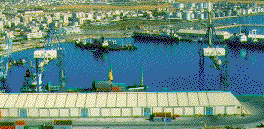 CPA was set up in 1973 within the context of a World Bank port loan to Cyprus, which provided for the establishment of a national port authority, development-oriented and operating on commercial lines, to replace previous port management arrangements which were based on conventional administrative concepts.

Since the establishment of the Cyprus Ports Authority, the port sector of Cyprus experienced a substantial increase in size, acquired specialised facilities for the handling of the various types of traffic and improved its services considerably. From being conventional handlers of the country's seaborne trade and passenger traffic exclusively, Cypriot ports became important cargo transhipment and cruise liner hubs. Following the recent completion of phase A' of a new multimillion port development programme to be fully implemented by the year 2010, Limassol become one of the most modern container ports in the Mediterranean.
The Cyprus Ports Authority's jurisdiction extends also over a number of small ports and fishing shelters, which are currently in the process of being developed further. These include the Old Port of Limassol, Paphos Harbour and the fishing shelters of Zyghi and Latchi.
Finally, the CPA is the National Lighthouse Authority of Cyprus, owing and operating the lighthouses of Paphos, Cape Arnauti, Cavo Gata, Cavo Kiti and Cavo Greco as well as providing all other aids for the safe navigation within Cyprus waters.
---