LAPITHOS MUNICIPALITY
INCORPORATED 1878

GREEK GODESS ATHENA
THE EMBLEM OF LAMBOUSA

LAPITHOS REFUGEES ASSOCIATION
FOUND 1987
ILLEGALLY Occupied by Turkish Troops since 1974
Welcome to the home page of Lambousa, an antique city in the northern, occupied part of  Cyprus. In the modern times Lambousa was split in two beautiful towns: Lapithos and Karavas. Unfortunately Lambousa can not be visited by its legal GREEK CYPRIOT residents because it is under Turkish occupation since the July of 1974. All Greek Cypriots inhabitants were forced out by Turkish military forces and are now refugees in their own country.

ILLEGAL TURKIFICATION OF GREEK NAMES: LAPITHOS WAS ILLEGALLY RENAMED BY THE TURKISH OCCUPATION REGIME: LAPTA (Click here for more information)
GREEK LAWFUL INHABITANTS NEVER FORGET THEIR CAPTURED LAND, and wait for the day of RETURN. Click here to listen to the anthem of Lapithos (mp3 format)
This page is here to provide information about the two towns of Lambousa, but more specifically on Lapithos which is also my birthplace.
Lapithos has been captured by the Turkish army after Turkey attacked CYPRUS July 20, 1974. Lapithos was captured during the second Turkish invasion with code name "ATTILA 2", and after fierce battles that took place on August 6-8 1974. Karavas and Lapithos were defended by 74 soldiers of the Karavas 256 Infantry Regiment of the Cyprus National Guard and with light infantry weapons mainly Mauser 1899. The Turks, after surrounding both Lapithos and Karavas from 3 sides, attacked on the morning of Tuesday August 6, 1974 deploying full force of their 28th division. This division consisted of the 61st, and 23rd infantry regiments, a commando regiment, an amphibious commando regiment, a tank unit of 30 tanks +3 tanks from the 39th division, 2 artillery units of 105mm and 7,5/18 cannons, and of course the Navy that was bombarding the two villages from the sea.

Map showing 1974 brutal turkish invasion. Note that Lapithos and Karavas were surrounded by the Turkish Army from 3 sides (North-sea, South-Mount Pentadactylos, and East-Kyrenia), before they were attacked by two turkish divisions on the morning of August 06 1974. The attack was unprovoked, and took place during a period of agreed cease-fire. Click to enlarge.
Despite their heroic defense in meeting the first wave of attacks, and the heavy casualties that they inflicted to the Turkish army, it was just impossible to hold the line for long. By noon, they received orders to retreat to Babylas - Vasilia defense lines. After that development, all Greek Cypriots inhabitants were forced out of Lambousa (Lapithos and Karavas) by Turkish military forces and are now refugees in their own country.
We protest against the Turkish invasion, and ILLEGAL occupation of Lambousa and of 37% of Cyprus by Turkish military forces since 1974.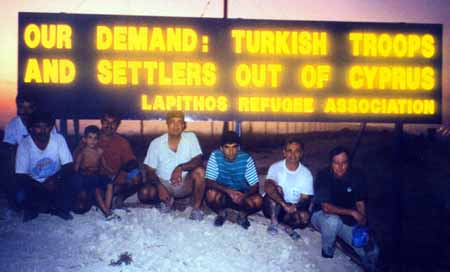 A Big Sign Protesting against the ILLEGAL Turkish occupation of LAPITHOS, our homeland, in occupied CYPRUS. The sign was posted by LAPITHOS REFUGEE ASSOCIATION on the Larnaca Airport road in CYPRUS. In the photo you can see a few Greek-Cypriots, members of Lapithos Refugee Association, refugees in their own country.
JUSTICE and PEACE for Cyprus

Click the image above to visit other Occupied Cyprus projects.

[Home Page][Location][People][Education][Photos][Audio][Ancient Treasures][Cultural Destruction][KYRENIAN LINKS]
---
Hosted at Kypros-Net Inc. - Occupied Cyprus.
For problems, questions or suggestions regarding this web site contact Savvas Nikiforou
For technical issues contact Christos A. Neophytou
Hitbox counter