CYPRUS TRAVELLERS HANDBOOK
---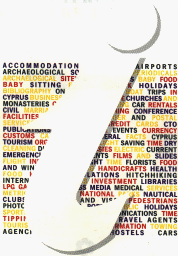 EVERYTHING YOU WANT TO KNOW ABOUT YOUR STAY IN CYPRUS
---
The Travellers Handbook is intended to offer the holidaymaker and visitor valuable information about the island, so as to get the most out of their stay in Cyprus.

Providing the reader with facts and advice, this Handbook is designed to assist to the planning of a trip to Cyprus and to offer information that will make one's stay a most pleasant and enjoyable one.
---
---
NOTE:
In this pages all place names have been converted into Latin characters according to the official System of Transliteration of the Greek alphabet, i.e. LEFKOSIA = NICOSIA, LEMESOS = LIMASSOL, AMMOCHOSTOS = FAMAGUSTA
Notes on pronunciation:
"ai": as in English egg
"oi", "ei", "y": as in English India
"ou": as in English tour

All information were obtained from the Cyprus Tourist Organization (C.T.O.) publication.

---

TABLE OF CONTENTS

---



Accommodation (Hotels-Hotel Reservations)
Airlines
Airports
Archaeological societies and publications
Archaeological sites and Museums
---
---
---
---
---
---
---
---
---
---
---
---
---
---
---
---
---
---
---
---
Since 23 July 1995: You are visitor number
of THE *CYPRUS* HOME PAGE.
---
This home page is maintained by Panayiotis Zaphiris. Please e-mail

pzaphi01@tufts.edu with comments and corrections.
---
Return to CYPRUS TOURISM PAGE.
---
M